Okay, I know, I know. I am failing miserably at blogging. We decided to start saving the money that we spend on the internet and turn it off at home. I can get on it at work, but not on blogger. We don't really need the internet at home. It's just a pleasure item. Since we don't need it, we plan on turning it off. I haven't yet, but we are planning on it. So, unless I get over to my sisters often, I won't be blogging often....sorry.
But, I will update you all on what's going on.
Christmas was sad, but we all made it through. We enjoyed family time. We have family this year, that we haven't had in a long, long time, so that was a major plus. I tried to find comfort and peace in that. Ruthie had a ball opening up gifts. She's so sweet and innocent. We have tried to explain to her, the best that you can to a 2-year old, that Christmas wasn't just about Santa and gifts, but it was about the birth of Jesus. We LOVED seeing all the manger scenes with baby Jesus. She would talk about how it was His birthday on Christmas, and then it would be her's. She would sing, "Away in a manger." Nothing is sweeter than knowing your precious little girl is understanding how awesome our Lord is! Our preacher had all the kids come up front on the sermon before Christmas and he told them the story of the birth of Jesus. Ruthie apparently listened closely b/c we were talking about it on the way home, and we asked her what Jesus was born in and she replied, "a manger!" We both looked at each other shocked b/c that was the first time she answered it correctly. We asked her how she learned that, and she told us, "Bro. Troy said so!" It's so amazing watching her soak it all in!
On Christmas morning, told Jesus Happy Birthday. She crawled in bed with us, and we told her that Santa had come to visit. We asked her if she wanted to open presents and she said no! She thought he was still in the house! She's not too fond of that old man! We convinced her he was back at the North Pole. She opened her gifts and got all that she wanted and more. I am sharing pics, but some will be sideways. My computer takes way too long to rotate them, and I am too lazy....sorry.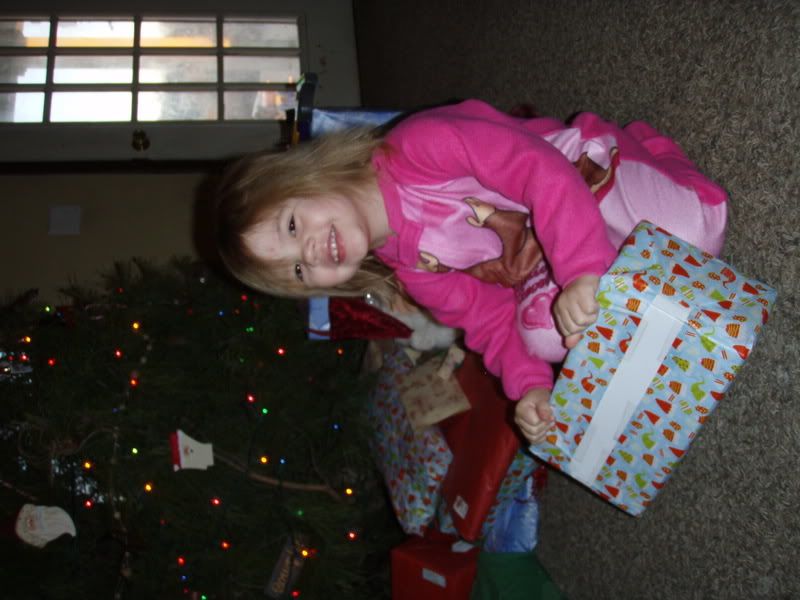 We also got a dog. He's so beautiful. He's very, very big. He's a Great Pyrenees. I can't believe how big he is, and he's only getting bigger. We adopted him from the humane society. He's been really good and we are in love with him. He's so gently and calm for his age and size. His name is Hondo. We also got a cat. Ruthie is in love with her. She's really gentle with Ruthie, and I am very surprised! Her name is Jazz. Here are a few photos of them! Okay, I can't get them to pop up right....sorry again. I don't know why it cuts off half the photos.